State-level Gems and Jade Platform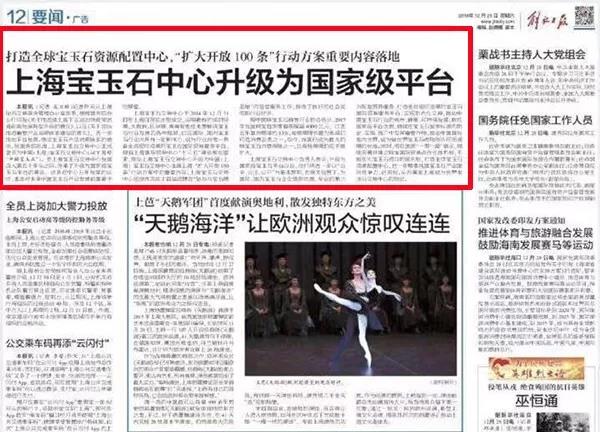 With the approval of the State Council, Shanghai Gems & Jade Exchange has been upgraded to China Gems & Jade Exchange since December 28, 2018, in order to further promote the development of the platform and implement the construction of the traceability of gems and jade products in accordance with the Opinions of the General Office of the State Council on Boosting Online and Offline Interaction and Accelerating the Innovative Development, Transformation and Upgrading of Commerce Circulation, and the Opinions of the General Office of the State Council on Accelerating Construction of the Traceability System for Major Products, and function as an important content of Shanghai's 100 action plans for expanding opening up in line with the requirements for the 13th Five Year Plan of Shanghai International Trade Center.

According to statistics, the retail scale of China's jewelry, being one of the most rapidly growing optional consumer categories, exceeded 600 billion yuan in 2017, with a compound growth rate of approximately 13% over the past five years. Nowadays, China has become one of the largest gems and jade consumption markets, and its market size is still growing.

Coverage from Jiefang Daily

The national gems and jade platform landed in Shanghai. Under the supervision of the customs, it will provide high-quality and professional third-party supporting trade services for international and domestic gems and jade enterprises, and solve various kinds of bottlenecks for the development of the gems and jade industry, utilizing real-time tracing, big data, block chain, and high-end intelligent technology and other technologies. In response to the national "Belt and Road" initiative, we will continue to improve and establish the long-term mechanism for international gems and jade trade cooperation, and continue to facilitate the convenience of gems and jade import, build a global gems and jade resource allocation center, and further enhance the international competitiveness and discourse power of China's gems and jade industry, laying a solid foundation for Shanghai to become the world's trading center of gems and jade. Relying on the advantages of the state-level platform, we will continue to align with the international standards and make innovations and breakthroughs in the formulation, implementation and promotion of China's national standards for gems and jade, to realize the grand blueprint of driving the gems and jade market worth of one hundred billion yuan and jointly create a bright future.